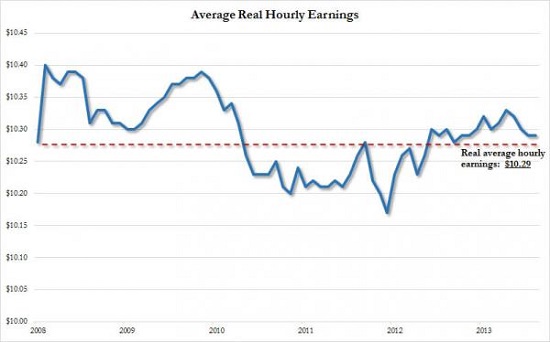 The central banks don't bother to distinguish between "good" and "bad" inflation: any and all inflation is considered not only wonderful but essential to propping up the Ponzi scheme of debt-dependent consumption, a dynamic I described in Central Banks Create Deflation, Not Inflation.
"Good" inflation is wages rising faster than prices. When wages rise faster than consumer prices, households have more money to spend on consumption, and it's progressively easier for them to pay down debt and support additional borrowing.
"Bad" inflation is prices rising while wages stagnate. In "bad" inflation, prices keep rising as central bank money-printing devalues the currency, but wages don't rise along with prices. As a result, wages decline in real terms, i.e. purchasing power.
In Japan, where the central bank and government have struggled for years to generate price inflation as the means to "re-start growth," wages have fallen by 9% in real terms since 1997. (source:Voodoo Abenomics: Japan's Failed Comeback Plan Foreign Affairs)