So this is a global thing.
It has not primarily been triggered by the strong dollar, but by a global slowdown in revenues caused by a global slowdown in demand.
The last two times that earnings of the S&P 500 companies reached this point – in Q1 of 2001 and in Q4 2007 – the US was already in a recession.
The National Bureau of Economic Research (NBER), which decides when a run-of-the-mill downturn becomes an official recession, hadn't acknowledged the recessions at the time, but it did so later on. The same will be true during the next official recession. We'll be told only after it's too late.
This chart by Economics and Strategy at Bank National Financial shows how earnings growth for the S&P 500 companies, as measured by 12-month trailing earnings, has sharply deteriorated, and by Q2 was barely above zero. This is slightly higher than the FactSet numbers for Q2 (-0.7%). For the companies in the MSCI AC index, earnings shrank by 7%. I added the green and blue parallel lines, the arrows, and the red circles to highlight what was going on when the prior two earnings debacles hit: the beginnings of the 2001 recession and the glorious Financial Crisis: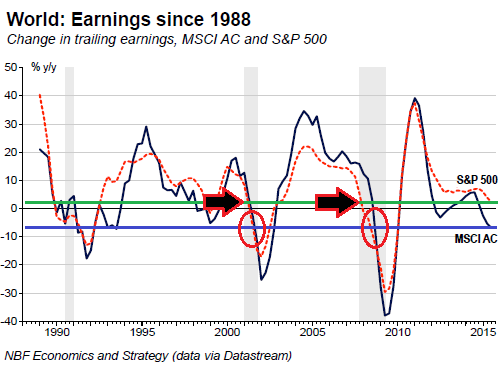 Bill Hester recently noted, all four of the Fed's September Purchasing Manager Index (PMI) readings (Philadelphia, New York, Richmond, and Kansas City) came in at readings of sub-zero. This ONLY happens when you are already 4-5 months into a recession.