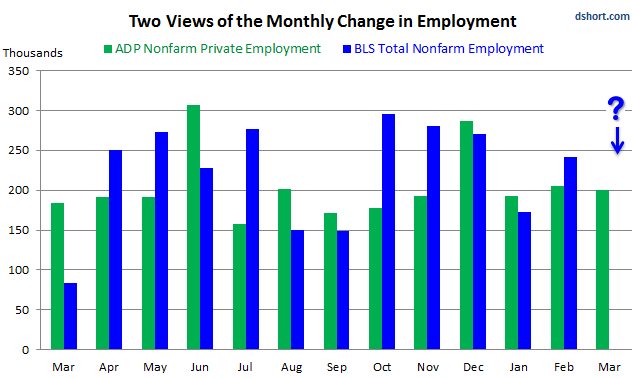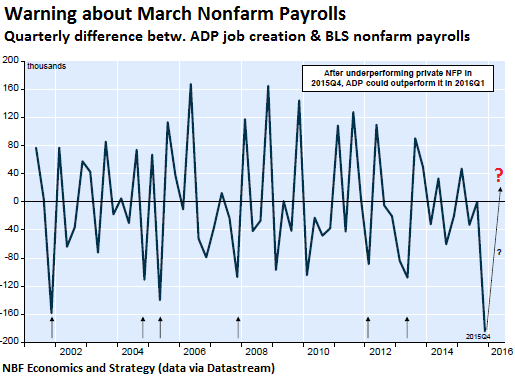 Now we're in the last month of that "following quarter." Just to revert to the historic mean, the BLS's reports for the three months in Q1 would have to be about 190,000 jobs lower than ADP's. ADP's first quarter total is just under 600,000 jobs. So the BLS's total, including Friday's numbers, would have to be 410,000 new jobs. But in January and February, the BLS already reported a combined total of 413,000 new jobs.
So, if the difference between the two reverts back to historical averages in March all in one fell swoop, the BLS could release a disastrous report of zero new jobs.
Even if the numbers revert back more slowly to the historic alignment with ADP, it would still be a huge disappointment for "consensus economists," and all heck would break loose — either a gut-wrenching swoon in stocks, or a blistering rally as Wall Street would start clamoring for more QE….
That statistical correction would simply align the BLS with the fundamentals facing businesses in the US, which are not "conducive to a hiring spree in Q1," as Rangasamy points out. Business revenues and profits have slumped for more than a year, productivity is declining, and economic growth in Q1 is starting to look very ugly, with the Atlanta Fed's GDPNow model plunging to 0.6% growth annualized, a hair from stagnation, and down from 2.4% earlier in March.