The CEO of Deutsche Bank sees no need for state support of his institution.In an interview with "Bild" (Wednesday) John Cryan said aloud advance notification to the question whether the Bank need government aid: "This is not an issue for us."

 

The manager had also jected reports and speculation about alleged talks with German Chancellor Angela Merkel (CDU) on state aid for the German bank. "I have not asked the Chancellor at any time for help. I have indicated like nothing." Cryan said. He could not understand "how someone can say that."

 

Even its shareholders do not want to ask for help of the German Bank CEO. "The question of a capital increase currently does not arise," said the manager.The Bank met all regulatory capital requirements. They have "far fewer risks in the books than in the past" and was "comfortably equipped with free liquidity".

 

The CEO described the situation of Deutsche Bank as better than it was currently perceived from the outside.
So no capital increase, plenty of liquidity, and fewer risks?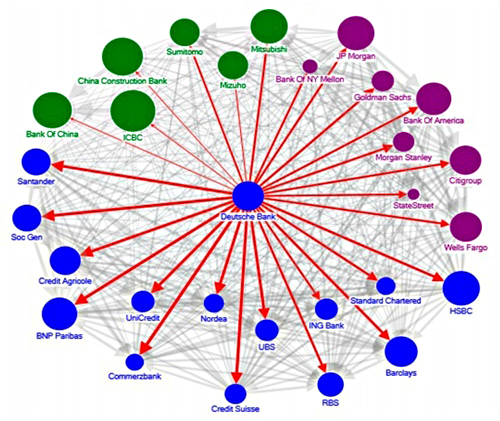 Systemic Risk Among Deutsche Bank and Global Systemically Important Banks (Source: IMF — "The blue, purple and green nodes denote European, US and Asian banks, respectively. The thickness of the arrows capture total linkages (both inward and outward), and the arrow captures the direction of net spillover. The size of the nodes reflects asset size.")