Let's take a look at the Global Silver Market annual net balances from 1975 to 2016: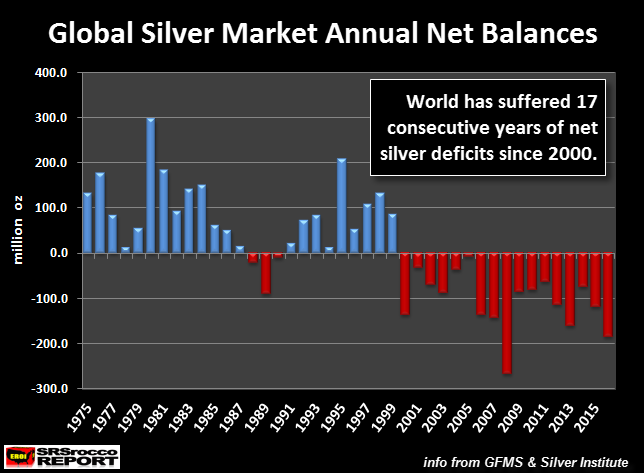 Let me explain this chart as it contains some interesting trend changes.  First, the majority of annual net surpluses occurred from 1975-1987.  This was after the U.S. and British Govt's colluded to start the Gold & Silver Futures trading markets, which funneled investors funds into paper precious metals rather than physical.
So, how can the Global Silver Market suffer 17 years worth of consecutive silver deficits?  Well, because there was over 2 billion oz of silver surpluses (1975-1999)  put away for a rainy day: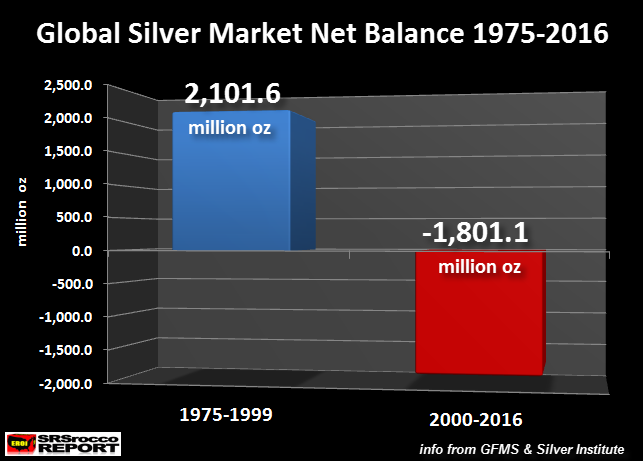 Of course these figures are best estimates and do come from an official source that may have the motivation to under-report the real situation, but we can clearly see that a lot of silver has moved out of the market and is now likely be held by extremely tight hands.
While the market is nothing more than one huge "Intervention", these official figures reporting 17 years of consecutive net silver deficits means the silver market is poised for something extremely big.  And, I am not saying that just because I am a silver investor.  The PROOF is right in front of us.   No need to hype something that is totally making the CASE for us.