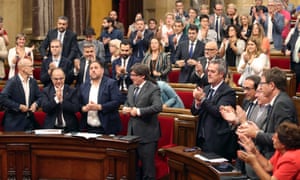 On Wednesday night, the region's ruling, pro-sovereignty coalition – which has a majority in the Catalan parliament – managed to get the referendum law passed despite angry objections from opposition MPs, who complained that usual parliamentary procedures had been disregarded.
The legislation passed by 72 votes after 52 opposition MPs walked out of the chamber in Barcelona in protest at the end of an ill-tempered, 11-hour session.
The move was denounced by the Spanish government, which once again said it would do everything in its legal and political power to stop the vote from going ahead on 1 October.
The Spanish prime minister, Mariano Rajoy, ordered government lawyers to file a complaint with the country's constitutional court so that the vote could be annulled.